Laura shared a few of her recently finished projects - first up, Warriston by Kate Davies, knit in emerald green Malibrigo worsted.
Warriston, photo via TwinOaksFarmFibre, Ravelry
Here's Spindrift, by Helen Stewart, knit in Laura's own Twin Oaks Farm fingering yarn
Spindrift, photo via TwinOaksFarmFibre, Ravlery
And for a spot of colourwork, how about this Merrie Dancers Toorie by Elizabeth Johnston, knit in Uradale Shetland DK?
Merrie Dancers, photo via TwinOaksFarmFibre, Ravelry
Liz brought in her Highway 61 Pullover, pattern designed by Jennifer Owens. She knit hers in Berroco Blackstone Tweed, and shared with us that the cables were a bit of slog, but she was happy with the finished item.
Highway 61 Pullover, photo via Interweave/Harper Point Photography, Ravelry
Liz also shared her finished Building Blocks Shawl, a mystery knit-along by Stephen West. She knit hers in Hedgehog Fibres Skinny Singles. Liz didn't love this project, but we all agreed it was a beautiful finished piece!
Building Blocks Shawl, photo via westknits, Ravelry
Cheryl shared her Pavonis cardigan, featuring some delicate bead work. Robynn Weldon is the designer, and Cheryl knit her version in ColourMart Cashmere/Silk.
Pavonis, photo via Cheryl21, Ravelry
Jean brought in a darling stuffed toy, Puppy Love by Lorraine Pistorio. Her version including a knitted bowtie (which conveniently covered the seaming!). She knit her puppy in Vanna's Choice for an easy-care toy.
Puppy Love, photo via Lorraine Pistorio, Ravelry
Jean also shared her Eleanor Cowl, a pattern by Audrey Knight, knit in Cascade Sport Superwash.
Eleanor Cowl, photo via AudKnits, Ravelry
Bogna shared her Iðunn sweater, by Ragga Eiríksdóttir. She knit hers in Lettlopi.
Iðunn, photo via Bogworks, Ravelry
Remember back in October when Mindy from Raven Knit Designs came to talk to us about shawls? I LOVED this talk, and I immediately went home to search for a "house shawl" pattern that I could wrap around me as an extra layer when I'm bumming around the house. The shawl I chose is Daybreak, by Stephen West, and I just finished it in March. The yarns I used are Georgian Bay Fibres Bayfield Fingering for the main colour and a gradient mini skein pack from Frabjous Fibres for the shades of green. I wear this shawl almost every day.
Daybreak, photo via vrock, Ravelry
I also shared the details about a neat little shawl pin I bought specifically for wearing with this shawl. Mindy spoke about penannular shawl pins during her talk, and the idea haunted me for months. As soon as my shawl was off the needles, I scoured Etsy for the perfect handmade shawl pin. The pin I bought is from QuirkySue's on Etsy.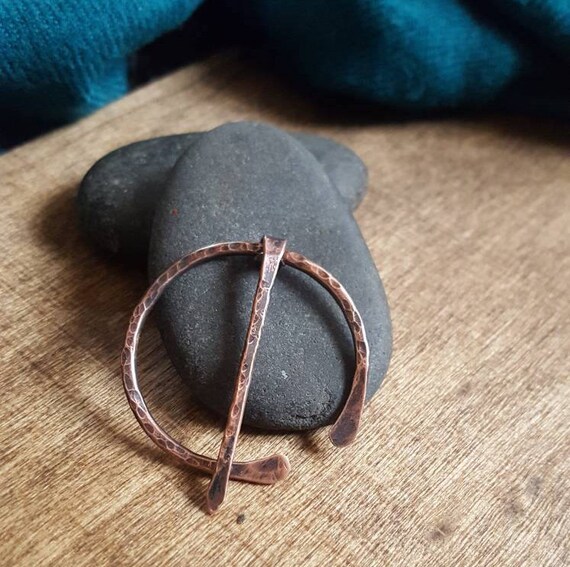 Handforged copper penannular shawl pin, photo via QuirkySues, Etsy
Happy knitting,
Victoria