Sandy shared a delightful pair of socks, aptly called Fine Socks, a pattern by Kim Petryshen. Sandy knit hers in Fleece Artist Cottage Socks.
Fine Socks, photo via JoEdgett, Ravelry
Gillian brought in her Oban Sweater, a classic looking cabled sweater by Thea Colman. The yarn she used is Blue Moon Targhee Worsted
Oban Sweater, photo via Thea Colman, Ravelry
Valerie earned some ooo's and ahhh's from the Yarn Club crowd with her stunning Stained Glass Cowl by Wendy D. Johnson. The yarns she used are Cascade Heritage Paints and Ella Rae Lace Merino.
Stained Glass Cowl, photo via RioBioBIo, Ravelry
And let's not forget the most perfect use of a variegated yarn, Valerie's Pincha Shawl by Pinpilan Wangsai. The yarn is Fleece Artist Merino Slim in Kluane Yk. I don't think you could have chosen a more suitable yarn for this pattern. Bravo!
Northern Light Pincha Shawl, photo via RioBioBIo, Ravelry
I shared a sweater I finished for my nephew's third birthday, the Wilhem Tell (Iceland Yoke Sweater) by Elin Brissman. My nephew is REALLY into 'digs' and anything to do with large construction equipment, and his birthday party (coming up this Sunday!) is construction themed. I loved the pattern for the simplicity and the fun arrow yoke detail, and the colour combination looked just perfect on the sample so I used the same colours. I picked up the yarn at the Spinrite factory outlet in Listowel (total aside, have you all been there? It's AMAZING!), it's Patons Classic Wool DK Superwash.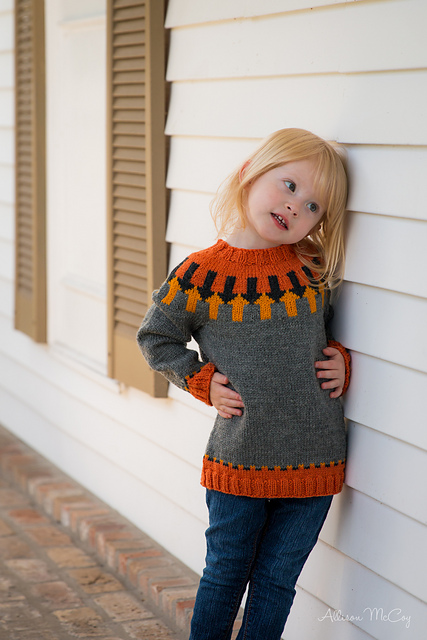 Wilhelm Tell (Iceland Yoke Sweater), photo via Allison McCoy, Ravelry
Happy knitting,
Victoria